Partnership extends capability for trial imaging integration to Florence Healthcare's 18,000 activated clinical trial sites.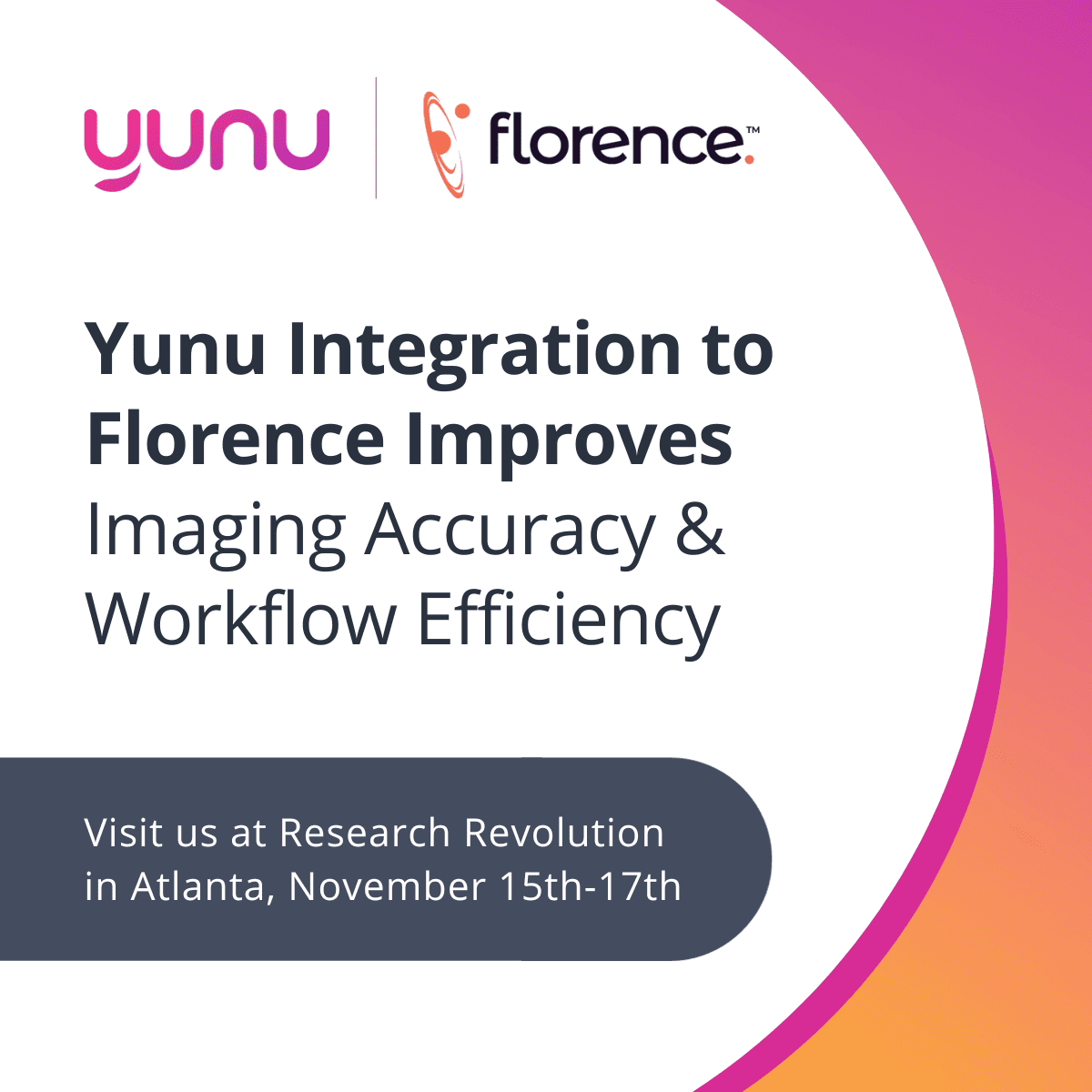 Atlanta, GA – November 15th, 2023 – Yunu, a clinical trials imaging workflow and data management platform, now offers Florence Healthcare customers a site-centric integration to automatically populate clinical trial participant records in Florence's eBinders™, a site workflow solution, that is part of its industry leading Site Enablement Platform, with their associated trial-specific imaging assessment reports. Today's announcement was made at Florence Healthcare's Research Revolution customer symposium in Atlanta, Georgia, which continues through Friday, November 17th.
Yunu's platform is home to over 4,200 active clinical trials and solves trial imaging challenges for cancer centers, trial sponsors, and CROs, while Florence is the Site Enablement Platform trusted by 18,000 sites in 55 countries to streamline operational workflows. Together, the companies aim to dramatically improve the efficiency and reliability of trial imaging workflow by eliminating manual data collection and transcription.
"The Yunu platform integration automatically populates the latest information about each patient's tumor response into Florence's platform and synchronizes these data as changes occur," says Yunu Co-founder and CEO, Jeff Sorenson, "Yunu has been proven to reduce study staff time required for imaging by 80%. This partnership is especially impactful because both of our companies are passionate about site-centric workflows that improve efficiency, accuracy, and patient access to clinical trials."
"Inviting Yunu to our partner program with this integration demonstrates the powerful impact of our Site Enablement Platform to be the central location of an ever-expanding variety of clinical research documents and data," says Florence CEO Ryan Jones, "Imaging results are widely considered to be one of the most difficult and manual forms of data to manage, and it is exciting to see our two platforms working together to provide a truly holistic solution."
Imaging endpoints are used to determine patient response in over 90% of oncology trials to monitor treatment efficacy, making the accuracy and timely delivery of these data of paramount importance. The integration of patient imaging results from Yunu directly into Florence's eBinders helps seamlessly connect the dots between investigators, imaging teams, and sponsors in real time.
Yunu and Florence customers who already manage hundreds of trials within each site, including many of the nation's busiest NCI-designated Comprehensive Cancer Centers, can now effortlessly share imaging records between their best-of-breed trial technologies. The companies plan to continue expanding integration capabilities to include multi-site and sponsor-specific workflows.
Yunu provides medical research technology and services to life sciences companies and clinical research environments that perform precision imaging assessments. Yunu's aim is to ensure breakthrough therapies are accessible to everyone by unifying medical imaging insights and connecting clinical communities. With thousands of clinical trials relying on the platform daily, Yunu is delivering a new standard for clinical trial imaging workflow.
Learn more at https://www.yunu.io | Inquiries: press@yunu.io
About Florence
Florence Healthcare is a leading provider of the Site Enablement Platform, committed to accelerating cures by better connecting sponsors, CROs, and research sites. With over 18,000 connected research sites on its platform in 55 countries, the company streamlines the clinical trial process, enabling seamless collaboration and efficient management of clinical research workflows.
Learn more at https://www.florencehc.com | Florence Media Contact: Blake Adams, SVP Marketing,blake.adams@florencehc.com